Women need a reason, and men a place, it's a joke that goes online and offline alike. It is the simple expression of a reality that's far more fascinating than what a superficial look can reveal.
A similar expression of this reality would be: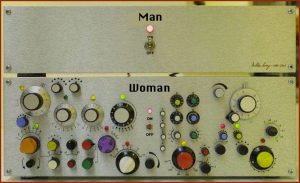 Tantrics value the woman for her true value. In their view, she is the perfect embodiment of love, magic and beauty. She is the living temple that contains the ideal shrine for the sublime sublime energy of the pure eroticism.
How have the tantrics come to adopt this attitude towards the Eternal Feminine? The stunning differences that exist between men and women in the manifestation of pure eroticism, simply blew them away. Net benefit for beautiful and deeply erotic gender representatives ☺.
A brief list of these differences should be the more than convincing for those who will have the patience to read them, so here goes:
5 ways women and men differ in lovemaking
Difference No 1:
It's the multitude of erogenous zones that the woman was blessed with, unlike men, who have much … much less.
Difference No. 2:
Unlike men who are familiar rather with reproductive instinctual behavior, women are naturally endowed to manifest an affectionate erotic behavior during lovemaking. That naturally facilitates the absorption and accumulation of the subtle sublime energy of the pure eroticism within their inner universe.
Difference No 3.
The woman is naturally open to the pure eroticism, whereas for the man to have access to that sublime subtle energy he requires considerable patience, tenacity and exercise. His instinctual nature calls the shots especially in terms of sexuality. That's the way he functions. However, not to leave him at disadvantage, the Creator has given him a sharp mind and conscience. Thus he also has the opportunity to become exactly as he dreams to become, and that includes the eroticism as well.
Difference No. 4.
A wide range of types of orgasms that women are capable to experience vastly eclipse the men's range of orgasms. Men's orgasms present though some nuances, depending on the disposition they are in.
Difference No. 5:
Women can easily experience multiple orgasms, without needing recovery pause or training, while men after their single ejaculatory orgasm need a recovery break as much as the breathing air.
And the list of erotic advantages – woman versus man … can continue. But we believe that what we have managed to present is more than enough to convince you of the superiority of the woman in absorbing and accumulating the sublime subtle energy of the pure eroticism in her inner universe.
To conclude, if you are a woman, you need to become more aware of the unsuspected treasures hidden in your being, and then make every effort to make them bear miraculous fruits. But if you are a man take heed to the example of the tantric, adore your lover because she is the goddess that opens her gate of erotic paradises. Together with her you can look happiness straight in the eyes. On this path, it is not difficult at all to reach this aim that you dream of, to a great or greater degree. ☺
Hermina